Prep Your Backyard for Fall Entertainment with an Outdoor TV Installation
What Kind of TV is Right for Your Outdoor Spaces?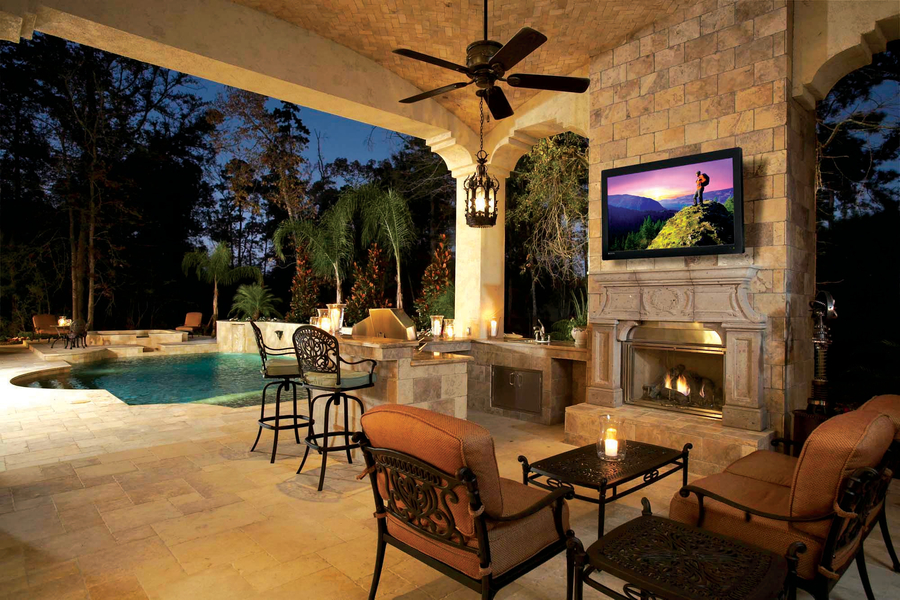 As summer begins to wind down, you can probably envision those fall leaves and weather in the near future. And the changing weather means that football season is just around the corner.
But how prepped is your backyard and patio for ultimate entertainment and tailgates this fall? Make sure your Demarest, NJ, outdoor spaces are ready to host the big game with a top-notch outdoor TV installation.
Want to know which type of TV to bring to your yard? We've put together a quick guide for you to look through and choose from the best. Keep reading below to learn which TVs work for specific areas in your backyard.
SEE ALSO: Considering an Outdoor TV Installation For Your Backyard? Start Here.
For Fully-Shaded Areas
Even when you're outside, sometimes there are still areas in your yard or patio that are completely in the shade. But that doesn't mean they won't need an outdoor TV in place of an indoor one. Covered patios and decks, screen porches, and cabanas can all benefit from a full-shade TV option. SunBriteTV's Veranda Series and Seura's Shade Series are both incredible choices.
The Veranda Series offers a 4K HDR UHD screen and has direct LED backlighting, while also bringing a 50% higher brightness than your average indoor television. The Seura Shade Series brings stunning 4K UHD image quality and is 60% brighter than most indoor TVs. It also comes with a standard 50W soundbar to deliver impeccable audio, and its sleek, stylish design will mesh well with your outdoor décor.
For Partial Sunlight Areas
These areas might include partially-covered decks and porches or pergolas out in your yard, so the SunBriteTV Signature Series is the way to go for these spaces. Fitted with a commercial-grade, antiglare 4K UHD screen, this outdoor TV is 3x brighter than the standard indoor television.
As it's facing more of the elements, the Signature Series can withstand all types of weather. You won't have to worry about damage or taking the TV inside when a storm hits. You can rely on a beautiful viewing screen at all times and have it ready for your next tailgate or movie night with friends and family.
For Full Sunlight Areas
For the areas in your yard that take on relentless sun and heat, you'll need either the Seura Ultra Bright Series or the SunBriteTV Pro Series. These areas include near the pool and hot tub, decks, patios, and other outdoor seating areas throughout your yard. So, to endure the sun, either outdoor TV is prime.

The Seura Ultra Bright Series keeps its vivid picture quality even in the intense sunlight. Seura's Adaptive Picture Technology and 4K HDR UHD screen produce an image that is unlike any other. With its 1000-nit brightness, this TV is 55% brighter than its previous designs and is 30% brighter than others of its kind.

SunBriteTV's option in the Pro Series has a commercial-grade, antiglare, and heat-resistant screen with a protective tempered glass shield in place that is 3x brighter than an indoor TV. This TV is built to take on all kinds of weather, storms, and extreme temperatures. Flooding and water damage aren't an issue, so place this television as close to the pool as you'd like.

Both Seura and SunBriteTV offer incredible outdoor TV options. The type and style you choose are up to your preference and ultimately, where you'd like your television installed. And we're here to help with the entire process – give us a call or fill out our online contact form to schedule a no-obligation consultation with our team. We'd love to hear from you!

No video selected.