Considering an Outdoor TV Installation for Your Backyard? Start Here.
Elevate Your Outdoor Living Spaces This Summer With Connect Consulting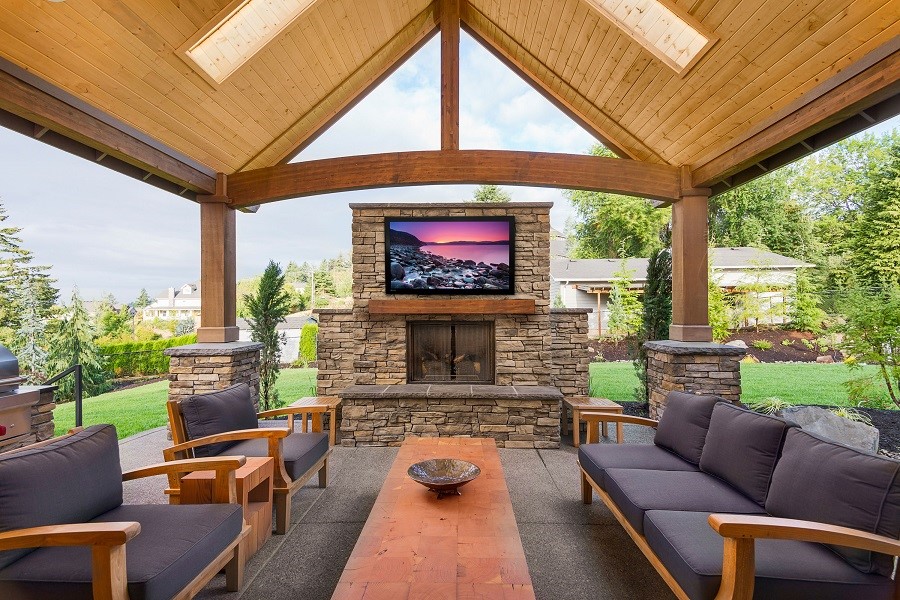 With the beautiful weather outside, this summer it's no fun staying cooped up indoors when you could be enjoying your backyard and patio areas with friends and family. And by bringing a top-notch outdoor TV installation to your property in the Saddle River area, you can have the perfect excuse to spend more time outside this summer.
If you're looking to bring the ultimate outdoor entertainment space to your New Jersey property this summer, an outdoor TV is the perfect way to start. In this blog, we'll highlight what you need to know as you search for the ideal outdoor television – and provide some other recommendations to complement your brand-new outdoor TV.
Just keep reading below to find out more!
SEE ALSO: OUTDOOR HOME ENTERTAINMENT SYSTEMS: WHAT YOU NEED TO KNOW
Séura and SunBriteTV: The Leading Outdoor TV Brands
When it comes to outdoor televisions, you don't want to mess around with quality. What if the sun is shining intensely and causes glare or makes it completely impossible to see your screen? Or what if your pool water splashes up on the TV mid-view?
With outdoor TVs from SunBriteTV or Séura, you can rest assured knowing your television will be able to handle all of the weather conditions the Saddle River area endures throughout the year. Both brands manufacture their outdoor TVs with materials designed withstand rain, wind, snow and even triple-digit and sub-zero temperatures; all possible here in New Jersey. Additionally, both TVs from SunBrite and Séura feature special casings that protect them from potentially damaging dust, insects and hail, as well.
SunBriteTV and Séura also are known for the image quality of their televisions. Both brands offer 4K outdoor TVs for fully-shaded applications like a covered patio, while SunBriteTV offers a 4K outdoor TV for partial-sunlight application, as well. If you're looking for an outdoor TV for full-sunlight applications, both SunBriteTV and Séura offer dedicated full-sunlight TVs; with Séura recently unveiling an 86-inch 4K Ultra HD model.
Of course, once you have selected the perfect outdoor TV for your living space, that's only the beginning. There are several other technologies that you can add to your backyard that can enhance your viewing experience – or simply elevate your time spent outdoors. We detail some of those technologies below.
Top-Notch Outdoor Speakers
High-end outdoor speakers are a necessity to complement your outdoor TV installation. Outdoor speakers can take on the same harsh weather and conditions that your television can, while still delivering an unparalleled audio performance. You can even pair a quality soundbar from SunBriteTV or Séura that will complement your TV and project audio towards the audience.
Another option is to disperse landscape speakers throughout your backyard so that others standing or conversing far away still tune in and hear a movie even if they're not right up by the TV. Best of all, when you're not watching TV or a movie, you can use landscape speakers to distribute music throughout your entire backyard – perfect for when you are hosting guests for dinner or a weekend afternoon gathering.
Outdoor Wi-Fi and Security
Want to take your backyard to the next level? You can do so by adding in more smart technologies to your outdoor living spaces.

One way to do so is by extending your home network to your outdoor living spaces. Our team at Connect Consulting can help you accomplish this by installing dedicated outdoor network access points that extend your Wi-Fi signal to your outdoor areas; allowing you to enjoy seamless browsing and streaming as you lounge outside.

Adding outdoor surveillance can be the finishing touch to your yard. Through adding dedicated outdoor surveillance cameras to your property, you can feature built-in protection for your backyard and your valuables. Check in on footage from your office or anywhere in the world with an internet connection; you can rest assured knowing your property will be covered 24/7/365.

Want to learn more about how Connect Consulting can help provide you with the perfect outdoor TV installation at your Saddle River-area home?

Feel free to give our northern New Jersey-based team a call or fill out our online contact form to schedule a no-obligation consultation with us today. We'd love to hear from you!

No video selected.