Get to Know Savant's Elegant Motorized Shading Solution
Bring Motorized Shades to Your Savant Home Automation System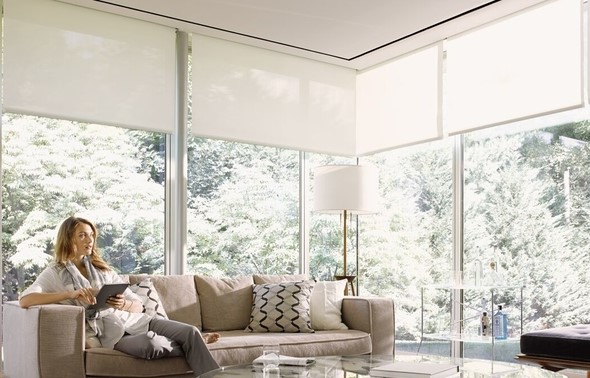 If you own a Savant home automation system, then you know how easy it is to go about your day with absolute control over every part of your house. But what if you could control your home's window treatments at the press of a button, as well? Did you know Savant also offers its own motorized shades for homeowners in the Ridgewood area and throughout New Jersey?
Able to integrate seamlessly into a Savant system, their motorized window treatments can transform your entire living space. Learn more about Savant shades' many benefits and features by reading on below.
SEE ALSO: HOW YOU CAN EASILY ADD MOTORIZED SHADES TO YOUR HOME
Elegant and Custom Design
Savant motorized shades are custom-designed to fit your windows and elevate your interior design. You won't have to look at exposed motors or wires in your living space – these shades have a sleek and modern appearance. It's simplicity at its finest.
The best part? You can choose from endless fabrics or colors your shades. Plus, you can decide what level of opacity you might want for your window treatments. With a variety of options to choose from, you can have the flexibility to select the perfect motorized shades for your living space.
Our team of Savant installation experts can help you not only choose from a variety of fabric samples but also expertly install and integrate each motorized window treatment with your Savant system.
Easy-to-Use Shading Solution
Savant makes it easy to cater your shades around your everyday life. Through just a couple presses of a button on the Savant app, you can select the room you want to control your shades in and instantly raise or lower them at your command. You won't have to deal with dangling cords and uneven shades; instead, motorization allows for your shades to quietly rise and lower without distraction.

You even can program scenes within your Savant system that make your preferences for your motorized shades accessible through just the press of a button. Create a scene that automates your shades to rise and lower in tune with the sun to optimize energy efficiency. Want to experience movie night in your home's media room? Create a scene within your Savant that not only turns on your TV and lowers the lights but also lowers your shades at the same time.

Our team not only can help you program scenes on your Savant app, but we also can add those scenes to custom wall-mounted keypads or remotes that you can strategically place throughout your house. The options truly are endless.


Want to learn more about Savant motorized shades for your Ridgewood-area home?

Give us a call or fill out our online contact form to schedule a no-obligation consultation with our team. We'd love to hear from you!

No video selected.