Dedicated Outdoor Speakers vs. Bringing Your Indoor Speakers Outside
Here's What to Know When Considering an Outdoor Speaker System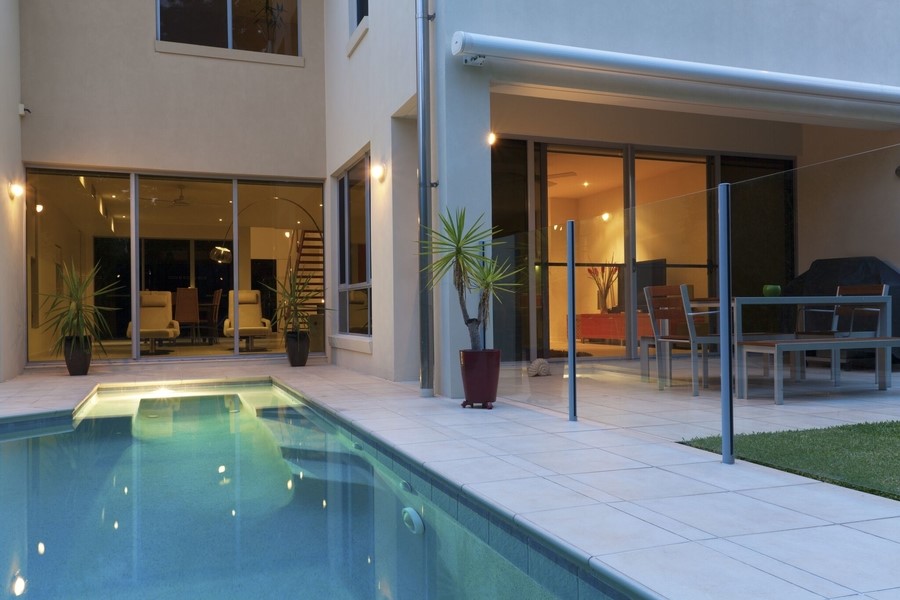 Why keep the fun indoors this summer? With a quality outdoor speaker system, you can liven up your Saddle River-area backyard with your favorite music for any special occasion – or even just to celebrate the season here in New Jersey.
But why is a dedicated outdoor audio system necessary? What does a dedicated outdoor speaker solution bring to your outside spaces that wireless indoor speakers, can't?
In this blog, we're here to tell you why a dedicated outdoor speaker system is optimal for bringing your music outside this summer compared to bringing your indoor wireless speakers outside. Want to find out more? Just keep on reading below.
SEE ALSO: OUTDOOR HOME ENTERTAINMENT SYSTEMS: WHAT YOU NEED TO KNOW
Durable and Resilient
So, you want to bring your wireless speakers outside on the patio to listen to a new album as you relax with friends and family. But, suddenly, a guest splashes pool water all over it, or it appears a storm is on the way. What now? You either risk permanent damage to your speaker, or you have to stop playing your music and rush inside.
But with an outdoor sound system, you'll never have to worry about this. Did you know outdoor speakers can handle any type of New Jersey weather that comes their way? Rain, hail, snow, flooding – your speakers can handle it all and still deliver impeccable sound, even when a heaping splash from the pool covers them entirely.
The same goes for intense temperatures, whether it's extreme heat or the freezing cold. The durable material that withstands all kinds of weather can also protect the speakers from those variations in temperatures that we are all too familiar with here in the Garden State.
High-End Sound Performance
An indoor wireless speaker won't be able to bring the level and quality of audio performance that you're seeking outside. If you want to hear the same high-end audio that you experience in your indoor dedicated listening room, an outdoor system can give you that top-quality sound.
Due to the lack of natural sound barriers outside, one speaker won't be able to effectively distribute audio throughout your entire backyard. Even if you turn the volume up loud enough to provide coverage to your entire outdoor living space, it will cause an uncomfortable listening experience for anyone nearby your speaker.
The solution that outdoor speaker systems provides is strategically installing speakers throughout your backyard, creating an evenly distributed sound field that directs audio into your yard and away from your neighbors'. Now you and any guests disperse throughout your outdoor area can hear music at a comfortable volume, with expert calibration ensuring every speaker is in tune with the other.
You'll get crystal-clear and highly-detailed sound every time you listen, whether you're streaming audio from the Mets or Yankees game or enjoying your favorite tunes by the pool.
Blend in Seamlessly with Your Outdoor Décor
Now you might wonder how bringing an outdoor system to your backyard will affect your landscape design. But the best part is that you don't have to sacrifice your outdoor décor for adding an outdoor speaker system to your backyard.

Outdoor speakers come in a variety of options. Landscape satellite speakers with underground subwoofers can deliver that amazing sound while also remaining hidden amongst your foliage and gardens. Wall-mounted speakers also blend in nicely but can create more centralized audio in specific areas, such as the patio or a screened-in porch.

If you want totally invisible speakers, you can pick ones disguised as rocks in your backyard. Depending on what type of visibility you want for your speakers, you can make anything work in your outdoor spaces.

Want to learn more about the possibilities of adding an outdoor speaker system to your Saddle River-area backyard this summer?

Feel free to give us a call or fill out our online contact form to schedule a no-obligation consultation with our team. We'd love to hear from you!

No video selected.