The Best Home Theater Products from the 2018 CEDIA Expo
Check Out These Top Innovations for Your Custom Home Theater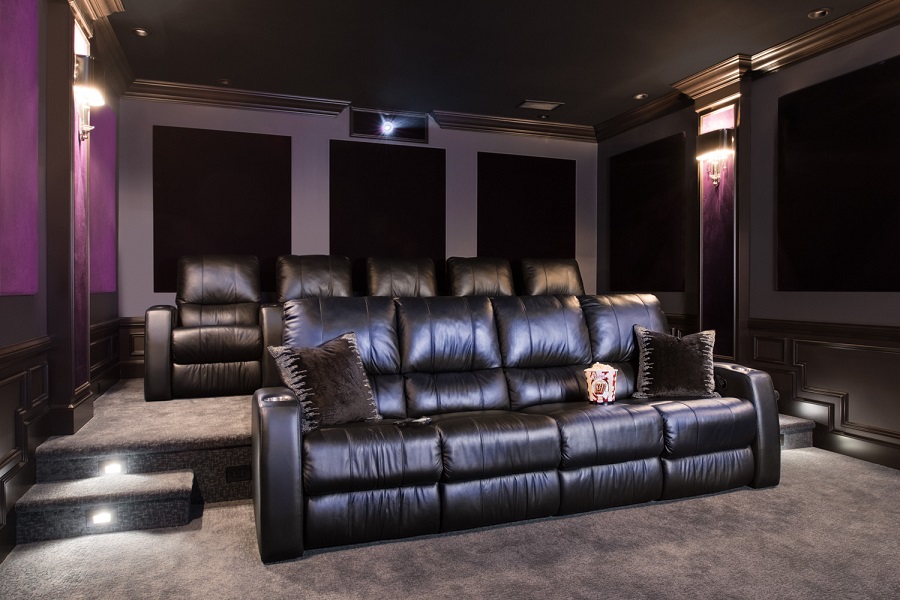 At the annual CEDIA Expo, manufacturers from across the home technology industry present the best and most innovative new products designed to enhance your lifestyle.
This year, we flew out to San Diego and saw various products that impressed us this year – especially ones for custom home theater environments. In this blog, we'll dive into some of our favorite home cinema products from the 2018 CEDIA Expo that you potentially can add to the theater at your house in the Summit, NJ area.
Just keep reading below to find out more.
SEE ALSO: 3 THINGS YOU NEED TO KNOW ABOUT HOME THEATER SYSTEMS
Sony's Brand-new 4K HDR Laser Projector
To bring you a brilliant and vibrant picture like never before to your home theater, the Sony Laser Projector VPL-VW995ES brings a lifelike image to every scene that plays out on your screen. Its laser light source lasts up to 20,000 hours, delivers 2,200 lumens of brightness and streams an unparalleled 4K-native resolution with 8.8 million pixels.
Your media's image will be so bright and vivid that it will feel like you're right there in the middle of the action – there won't be an inch of the screen that's not crystal-clear.
The VPL-VW995ES also boasts Digital Focus Optimizer technology. This guarantees precise focus and dynamic contrast ratio for your media content. You're left with stunning color, striking detail, and an image that leaves a lasting impact on viewers.
We genuinely believe this brand-new projector from Sony is one of the best the brand has ever built. And we can help you not only purchase one but also install and calibrate it to perfection at your custom home theater.
Pro Audio Technology: Theory Audio Design
You want the highest quality audio when you're about to watch your favorite movie or finish up a TV series. For that, your speakers need to be high-end.
We recommend the new Theory Audio Design from Pro Audio Technology. The system includes sleek, high-performance soundbars that are meant to pair with TVs up to 85 inches in design.
The soundbar is capable generating audio at an impressive 120dB, but it's not all the Theory Audio Design system has to offer. Adding on to the soundbars, Theory has four multi-use on-wall speakers that have dual 5-, 6-, and 8-inch woofers. With similar styling to the soundbars, these woofers won't hinder your room's design.
And if you want a more concealed finish to your setup, those on-wall speakers are also available to be configured and installed in-wall instead – with a low-profile perforated metal grille in place over the wall.
In addition to Theory's speakers, we also were impressed by its ALC-1809B amplified loudspeaker controller that offers multi-channel power and matrix switching, with up to 9 channels of support and distributing up to 1,800 watts of power.
Origin Acoustics and Artnovion Home Theaters
Are your theater's custom design and aesthetics essential aspects of the whole experience for you? Then you'll want your sound equipment to not only blend in with its surroundings, but to enhance them as well.

Offered in over thirty colors, Artnovion acoustic treatments are both stylish and top-quality – elevating the absorption, diffusion, bass trap or insulation qualities of your cinema. You can personalize and custom-print your panels to fit any theater design or setup.

Artnovion's partnership with Origin Acoustic elevates the auditory experience for any home theater. Through pairing Origin Acoustics speakers with Artnovion acoustic treatments in your custom home theater design, we at Connect Consulting will be able to deliver you with a cinematic setup that prioritizes an immersive and high-end auditory experience.

Of course, this blog only recaps some of our favorites from this year's CEDIA Expo. There were plenty of additional products that impressed us, and we're always staying in-the-loop on the latest trends so that we can provide your family in the Summit area with best-in-class service and solutions.

Interested in finding out more? Give us a call or fill out our online contact form to schedule a no-obligation consultation with our team. We'd love to hear from you!

No video selected.