Here's How Kaleidescape Adds Value to Your Home Theater
Learn How Kaleidescape Can Transform Your Viewing Experience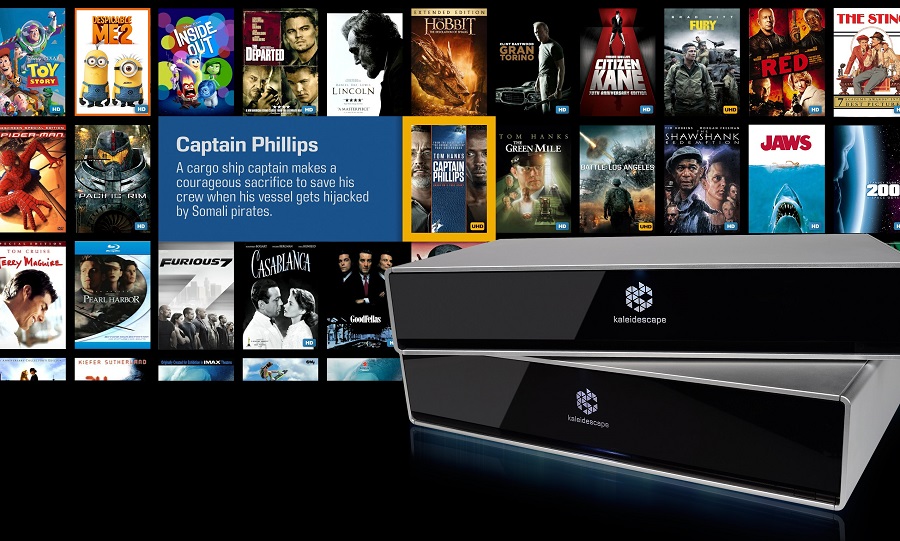 When you're setting up your custom home theater at your house in Montclair or elsewhere in New Jersey, you have several choices to make. What type of speakers should you choose? Is a projector/screen combination or a TV better for your room? How should your seating layout look?
But how can you take your home theater system to the next level? Kaleidescape is the perfect answer for your home cinema. With guaranteed high-quality audio and video, as well as an endless library of your favorite films and shows, Kaleidescape can add value to your theater and elevate it in every way.
Want to find out more? Just keep reading below.
SEE ALSO: 6 UPGRADES THAT WILL MAKE YOU PROUD OF YOUR HOME THEATER
Why Choose Kaleidescape
When you sit down to browse through your streaming service's media library for your family movie night, do you find that your selections are limited? Or do you grow frustrated if your internet connection is poor and your films or shows often are pixelated or pause to buffer?
Kaleidescape is a home theater system that gives you all the convenience of a streaming service like Netflix or Hulu but also gives you access to an abundance of your movies with a high-quality image. You can import your own DVDs and Blu-Rays into the system without having to search for and put in the disc every time before you sit down to watch. You can also peruse through Kaleidescape's vast digital store in case you haven't found what you were initially searching for.
Each movie – whether from your own Blu-ray disc or from the Kaleidescape store – is downloaded to your Kaleidescape server, meaning that you don't have to rely on streaming or discs to watch your favorite films.
The product's sleek design and various features make it the ideal system to liven up your home theater and make it stand out amongst the rest.
Kaleidescape Products
1. Strato S: The Strato S is meant to create an immersive cinema experience, with better AV playback than you would find in even the Montclair area's commercial theaters. This is because the Strato S supports built-in playback in 4K Ultra HD. Additionally, not only can the Strato S play 4K Blu-ray discs or 4K movies purchased from the Kaleidescape store, but it also can upscale DVDs and HD Blu-ray discs to 4K resolution.
Its internal hard drive can store either 6TB or 12TB of movies, with the 12TB holding around 300 movies. You'll be able to import all your DVDs and Blu-rays so that they are available for you to play in a moment's notice. You can then watch your films from the hard drive, or also from another Strato S movie player or a Terra movie server.
2. Strato C: Unlike the Strato S, the Strato C is a more compact version that has no internal drive. With this product, you'll be able to play your movies from a connected Terra movie server or Strato S movie player.
It provides a 4K Ultra HD resolution and 60 fps display that gives you stunning visuals every time you hit play. Additionally, the Strato C also supports lossless multi-channel audio and object-based audio formats, such as Dolby Atmos. Both its audio and video specifications provide a movie-watching experience that you just can't find anywhere else – all in a more compact and sleek finish.
3. The Terra Movie Server: Storing up to 40TB of movies, the Terra can serve up to ten 4K Strato movie players on your network simultaneously. Simply download movies onto your Terra movie server, and have access to any of those movies from any connected Strato movie player throughout your house.
Consider the Terra as the center of all your Strato systems. It will add storage to your existing servers and even will restore movies from the cloud in case the hard drive ever fails. If you love movies and film, the Terra is designed with you in mind, so that you always have access to your media with just a push of a button.
Digital Store & Mobile App
The Kaleidescape renowned digital store has an endless selection of movies with an audio and video quality meant for your home theater's capabilities and features. Choose from movies that are standard HD or are in 4K UHD; or purchase titles that are in Dolby Atmos or DTS:X audio format.

Now with the new Kaleidescape Mobile App, you can now use your smartphone to browse through movies and choose which ones to buy – right there on your phone. Its design and user interface are as elegant and easy-to-use as the onscreen display you have on your TV. Now it's easier than ever to find what movie you and the family will be watching tonight.

And, best of all, Kaleidescape products integrate with some of the leading home control brands in the industry, including our partners at Savant. From your Savant smart home mobile application, you can control your Kaleidescape movie players throughout your house.

We recommend Kaleidescape as the perfect custom home theater addition to any residential cinema here in northern New Jersey. And as a Kaleidescape signature dealer, we can help you not only find the right product for you but also expertly install it in your own home cinema.

Want to find out more? Feel free to give us a call or fill out our online contact form to schedule a no-obligation consultation with us. Our team would love to hear from you!

No video selected.